Oh, honey!
Just like everyone, we over here at Ida Red absolutely love food! We have a passion for local food more than anything else. So did you know that about 1/3 of the food you eat, local or not, was helped somewhere along production by Apis mellifera… the honey bee! Honey bees pollinate fruits and veggies including cucumbers (pickles, guys! No bees no pickles!) onions, lettuce, spinach, apples, cherries, and strawberries! Even milk from grass-fed cows relies on alfalfa crop pollinated by honeybees! Each year, honey bees contribute about 2.6 billion dollars worth of goods to our food economy, and that's not to mention the honey.
So why are we all a buzz about bees? Ida Red is happy to introduce our newest addition to our collection of local food goods, the Tulsa Urban Bee Company family of products! Honey jars, creamed honey spread, beeswax lip balm and lotions, what makes these goods so impressive is that they are produced 100% by Oklahoma honeybees!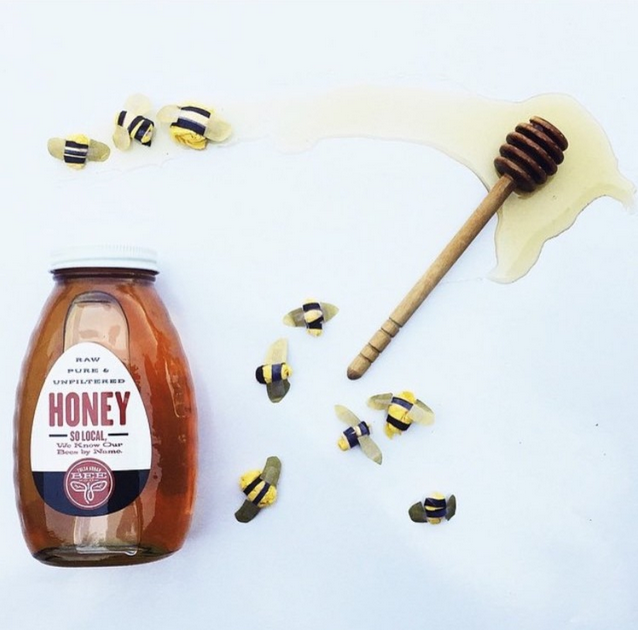 While lots of other distributors market their products as local, most beekeepers use a migratory technique, moving their colonies from crop to crop along with the seasons, and often, across state lines. Oklahoma is a difficult environment to keep bee colonies highly productive due to unpredictable weather patterns us Tulsans are so used to. Tulsa Urban Bee Co. is completely committed to keeping their colonies in Oklahoma, so their bees are only pollinating and producing from Oklahoma crops! Because of this commitment, Tulsa Urban Bee Co. may be the only source for truly local Oklahoma honey, one of the rarest pure honey products in the United States!
Unfortunately, it's been a bug's life for bees in recent years. All over the world parasites and pesticides are contributing to losses of entire colonies of bees who die suddenly, or simply lose the stamina to pollinate and produce honey. But there's something you can do about all of this! We spoke to beekeeper buddy Greg over at Tulsa Urban Bee Co., and he gave us some tips on how to become a bee friendly city!
-Let your yard grow wild! Forget having a golf-course worthy green on your lawn, letting local wildflowers and clover grow in your yard is the hot new look, and it gives bees more places to collect pollen! Pollen isn't just for pollinating and producing honey for our shelves, don't forget, bees eat honey too!
- Start a pesticide-free edible fruit and vegetable garden. Growing your own fruits and veggies is the only way to know exactly how safely and ethically they were produced. Take it from us, knowing where your food came from just makes it taste better. Growing your own crops is not only good for you, but this is another way to give bees a good healthy variety of crops to pollinate!  (check out this link to find some bee-friendly crops to get you started!)
- Follow instructions for pesticides VERY closely. Alright, if you are grossed out by grubs and can't leave your garden without some pesticides, make sure to follow instructions on the bottle. These instructions not only make sure the right bugs stay away from your plants, but protect bees from taking dangerous pollens and nectars back home to their whole colony.
- Support local farmers and beekeepers. While your garden is just getting started, hit the farmer's market and buy some fruits and vegetables from other locals committed to protecting bees! Buy pesticide free produce (and honey of course!) to make sure our local farming friends can keep planting bee-friendly crops for years to come!
Remember, Tulsa Urban Bee Co. never cuts corners, so unlike other suppliers they will never blend their honey with a product from another state or country. This is because they believe pure Oklahoma honey is the best! Each of their 350 colonies produce about 60 lbs of honey per year, so come by and get a jar while the gettin's good!