Let's take a moment to revel in the nostalgia of the incredible Tulsa Easter Parade!
It's almost that time of year again; Easter is just around the corner and we can't wait for all the Easter Egg Hunts and springtime family fun to come! We also just can't help but reminisce over Tulsa's much beloved Tulsa Easter Pageant.
The tradition started in 1936, when Central High School speech teacher Isabelle Ronan - with help from two dozen students -- wrote and directed the first pageant, which depicted seventeen scenes from the life of Jesus. Originally, the pageant was staged at Woodward Park to 200 people but it had also been performed at Memorial Park cemetery, Chandler Park in 1959, and Skelly Stadium. At its peak, the crowd was estimated at 80,000 people. (Yes, you read that right: 80,000 people!)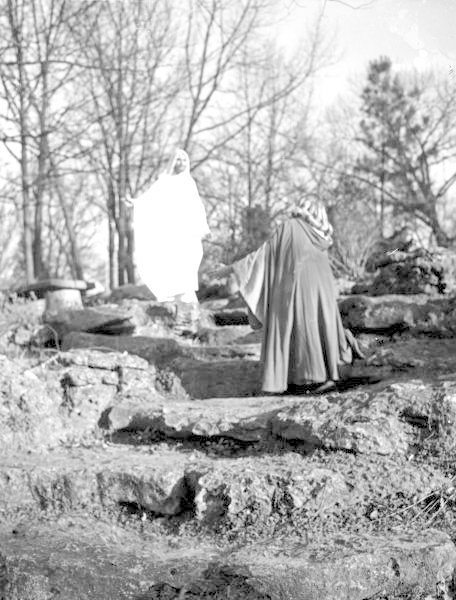 The Pageant was truly a community endeavor, hearkening back to the theatrical tradition of Mystery Plays. Medieval mystery plays focused on the representation of Bible stories in churches with accompanying song and of subjects such as the Creation, Adam and Eve, the murder of Abel, and the Last Judgement. These plays were put on by different guilds (for example, the carpenters, the smiths, the bakers, etc.). Easter dramas fell into this religious tradition and, centuries later, are still performed by community members in celebration of Easter. The Tulsa Easter Pageant itself has had up to 300 people participating, all from the ages of 2 to 67. Some participants would perform each and every year, including one couple who performed together for 15 years!
The Tulsa Easter Pageant would begin early in the morning (3am, to be exact) and would end at sunrise. Despite being awake before the sun even made its appearance, there was always such an atmosphere of warmth and awe as you watched the pantomime. You felt as if you had been transported back in time and, with other Tulsans surrounding you, you couldn't help but feel grateful to be witnessing such a beautiful show.
Though the Easter Pageant is no longer in operation, its legacy lives on!
photos from the Beryl Ford collection/Rotary Club of Tulsa (from the 1952 Easter Pageant)