It's time for you to learn about the wonderful Kayterra Farms!
Jams, pickles, and okra, oh my! This month at Ida Red, we just can't stop talking about Kayterra Farms wholesome, all-natural, DELICIOUS preserves! From the out-of-this-world Habanero Garlic Dill Pickles to the super popular, kinda boozy Tipsy Apple Butter Jam, Kayterra Farms can't be beat when it comes to flavor. We're drooling now just thinking about it.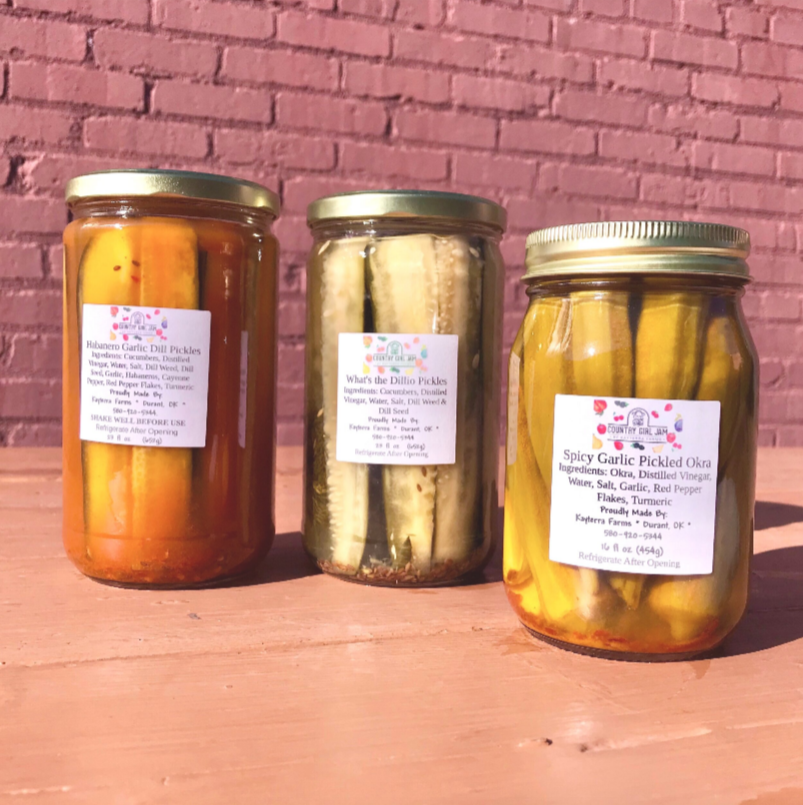 Owner Claudia Chambers-Beach grew up here in Oklahoma on her family farm, which exclusively grew purple hull peas and okra. Her formal education in crop growing began at the age of 8 so it's safe to say this amazing business lady knows her stuff! In the early 2010s, Claudia suffered terrible health hardships which affected her employment. But, like a phoenix rising from the ashes, when her health finally improved in 2015, she asked herself "what are my gifts, what are my talents, how can I use those to generate an income and do my part?" She saw a real demand for high quality preserves and other food items without the artificial flavors, colors, and other additives and so decided to go back to her roots. In 2016, Kayterra Farms was born and has been offering customers a homegrown, healthy alternative to high-processed foods ever since. "I will only create and produce foods that you can feel good about feeding your family," Claudia says. "When you buy from Kayterra Farms, you are purchasing a quality product [that] has less sugar, more fruit, and is an all-natural product…from the pure cane sugar, to the natural fruit pectin that holds it all together…That's what I do, I connect people to a more simple time in history, when things were still made by hand. When food was still real, authentic, and delicious!"

We love Kayterra Farms because not only can you taste the homegrown care and love in Claudia's foods but her flavors are unbelievably unique. You're not going to find them anywhere else, folks. Currently in our stores we have jam flavors like Maple Bourbon Pear, Warm Peach Pie, Jalapeño Raspberry, Peach Mimosa, Vanilla Bourbon Pear, Sand Plum, and Cinnamon Whisky Pumpkin Butter. Talk about TASTY. The pickles and okra pack a flavor punch like no other — you'll be begging us for more. 

We're such fans of Claudia, her story, and Kayterra Farms that we've invited her to do a tasting tomorrow, February 7th, at our Downtown Main Street location for February's First Friday! We're SO excited to share her delicious recipes with you all! The tasting starts at 6:30 and will end around 8:30pm. Your taste buds will thank us later!